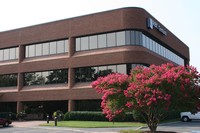 Hunter-Hopkins Center
7421 Carmel Executive Park Dr.
Charlotte, North Carolina 28226
Telephone: (704) 543-9692
Facsimile: (704) 543-8547
Email: drlapp@drlapp.net
Or use our convenient contact form below
An emergency pager is available for hospitals and pharmacists with a true emergency. Dial 1-704-621-0247.
Director: Charles W. Lapp, MD
Staff Physician: Laura A. Black, MD
Business Manager:  Darie Lapp
Front Office Coordinator: Pamela Toomey
Medical Assistant: Mimi Griffin
Research Coordinator: Wendy Springs
Office Assistant:  Melissa Hartman
---
Send Us A Message
We will gladly respond to requests for further information from prospective patients, fellow physicians and researchers.
Use this contact form or email us at drlapp@drlapp.net for non urgent messages only. FOR URGENT MATTERS PLEASE CALL THE OFFICE AT 704-543-9692.