This Month's Contents
Dr. Lapp Retires and Dr. Vincent Hillman Takes the Helm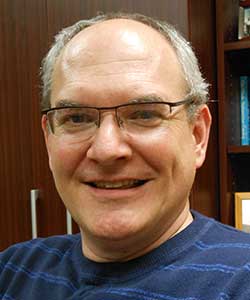 After more than 40 years of medical practice and more than 32 years devoted to ME/CFS, Dr. Lapp has decided to retire. Announcements were made to patients who visited the office as early as October, and letters were sent to as many patients as possible. Soon after the announcement, a local family practitioner, Dr. Vincent Hillman, contacted Dr. Lapp and told of his interest in Chronic Fatigue Syndrome and becoming a member of the Hunter-Hopkins Team. Now it is a reality! As of February 1, Dr. Hillman has taken over as president and owner of Hunter-Hopkins, but vows to "keep the practice almost exactly the way it was when Dr. Lapp was at the helm."
Dr. Hillman shares a lot in common with Dr. Lapp. Both were from New York State originally and both initially trained as engineers before seeking careers in medicine. Dr. Hillman was born and reared in Utica, NY and earned an engineering degree from Clarkson University in 1990. He then did two years of Master's work in Biochemistry/Oncology at the University of Buffalo, Roswell Park Division, in leukemia research. He attended medical school at St. George's University and then his clinical years were spent at Maimonides Medical Center in Brooklyn, NY. He graduated in 1996, and went on to a Family Practice Residency at North Shore / Long Island Jewish Hospital in Bay Shore, NY.
After his residency, Dr. Hillman worked for the US Army at the West Point Military Academy (Keller Army Hospital family practice unit), worked in the Emergency Room and hospital admitting areas, and ran a private practice as well. From 2005-2006 he also worked at the Winn Army Hospital at Fort Stewart, GA, before setting up a private Family Practice in Huntersville, NC in 2007. In addition to his private practice Dr. Hillman also has an interest in helping clients with disabilities. He has worked for ProMed Urgent Care in Occupational Medicine and performed over 13,000 examinations for Social Security Disability.
Dr. Hillman has a strong interest in CFS/ME/FM and an empathy for all of you with the disorder because he has a family member who has suffered with the disorder for almost a decade. We are sure that you will enjoy meeting and working with Dr Vincent Hillman. Dr. Lapp will be working side-by- side with him for a few months to see that he is as up-to- date as possible with CFS/ME/FM. Dr. Hillman is married, has three children, and lives in Huntersville NC.
Drat That Opioid Epidemic! Big Concerns for Our Patients and Everybody
On October 30, 2017, President Trump declared the "opioids crisis" a "national emergency," thereby elevating a rising problem to the highest level of concern. It's understandable. Drug overdose is now the leading cause of accidental death in the United States, and the majority of overdoses involve opioids.
Even before Trump's edict, the Centers for Disease Control recognized the issue and had released recommendations that included using short acting pain medications instead of long acting; using less than 90mg of morphine or morphine equivalents per day; and avoiding the concomitant use of benzodiazapines like Klonopin, Xanax or Ativan if you use narcotic medications. (Although these were just recommendations, insurance companies immediately started declining prescriptions for doses greater than 90 morphine equivalents and asking patients to choose between their pain pills and their sleep or anxiety medications!)
The problem here is that by using politics and law enforcement to control drug abusers, many people with chronic pain may be denied necessary treatment, and chronic pain may be more harmful than narcotics. One in three Americans suffers from pain, of which 2 to 6% have FM. Yet patients with FM are treated like drug addicts when they seek pain relief from most primary providers or even pain specialists.
We have big concerns for Persons with Fibropain who need narcotic medications. We feel that future regulations will get stricter and stricter. Possibilities include monthly face-to- face checks; no prescriptions across state lines; prescriptions only from state-approved pain specialists (of whom there are very few); and perhaps no one will be prescribed more than 90 morphine equivalents, which equals:
90mg of morphine total per day
90mg of hydrocodone (Lortab, Vicodin) per day
60mg of oxycodone (Percocet, OxyContin) per day
13mg of hydromorphone (Dilaudid) per day
12mg of methadone per day
25 mcg of fentanyl; (Duragesic) every 3 days
300mg of tapentadol (Nucynta) daily
30mg of oxymorphone (Opana) daily
What can be done? If you are taking narcotic medications, consider these alternatives:
Non-pharmacological techniques to reduce pain such as rest, heat, cool packs, liniments (such as IcyHot, BenGay, Biofreeze, Blue Emu, Aspercream , Tiger Balm and others), tub soaks, Epsom baths;
Physical modalities such as physical therapy, myofascial release, massage therapy, chiropractic, acupuncture, TENS units;
Consider non-opioid medications that control pain such as Lyrica/pregabalin, Cymbalta/duloxetine, Savella/milnacipran, Neurontin/gabapentin, or Low Dose Naltrexone. Lyrica, Cymbalta, and Savella are FDA-approved for the treatment of fibromyalgia pain;
Reduce your use of opioids (narcotics) to less than 90 morphine milligram equivalents per day;
Establish with a local pain specialist NOW so that when stricter regulations come you won't be scrabbling for someone to help!
NIH Research Study of ME/CFS Continues Recruiting
Researchers at the National Institutes of Health are still seeking individuals with Myalgic Encephalomyelitis / Chronic Fatigue Syndrome (ME/CFS) to participate in a research study that started in early 2017. Participants living anywhere in the continental US can participate and NIH will cover travel
and lodging expenses as well as the cost of study-related tests and procedures. The inclusion criteria require persons with ME/CFS that started after a documented infection, and symptoms must be less than 5 years in duration. Participating includes:
A pre-screening phone interview
A two to five day inpatient visit with up to 8 hours of testing each day
Testing may include:
MRI brain imaging
blood, urine, saliva, and spinal fluid collection
a tilt table test
an activity diary that is completed at home
Some participants will be eligible for a second five to ten day inpatient visit that may include vigorous exercise for periods of 10-15 minutes, sleeping in a room that measures how the body uses energy, brain imaging, transcranial magnetic stimulation, and collection of spinal fluid. In addition to PWCs, Dr. Walitt (who is Lead Investigator of the project) informs us that healthy subjects are being sought as well. Do you know any willing subjects?
Interested individuals should call 1-800- 411-1222 for more information about the study. See https://mecfs.ctss.nih.gov/
Prescription Savings
If you have not already discovered GoodRx, you had better get with it! Sign up at www.GoodRx.com or load the app onto your smart phone. Then when you need to pick up a prescription, enter the drug name and dose plus your zip code to find lowest prices and coupons for the medication in your area. GoodRx also offers appropriate online or mail order service, if you wish.
Some of our patients have found the cell phone app to be most helpful. While waiting in line at the pharmacy you can call up coupons on the spot! Give it a try …
Another source of reduced drug costs is to sign up with blink.com. Blink Health works like a separate insurance company for you at the pharmacy and they work to negotiate the lowest price for you regardless of what insurance you may have (or don't have!). Their website also offers access to several discount cards and over 270 Patient Assistance Programs for low income uninsured patients.
Many patients find the best prices for their medications in Canada. To check out the best pharmacies and prices for your particular medication have a look at "Pharmacy Checker" at: https://www.pharmacychecker.com/online-pharmacy-ratings.asp.
Confirm Your Appointment!
Be sure to confirm your appointment when you receive that reminder call from Pam or one of the other HHC staff members. Because appointment time is so valued, it is our policy to cancel an appointment and reschedule someone else if we have not heard back from you within 24 hours of your appointment.
Editorial Comment
Well, it has been several months since the last HHC ME-Letter, mostly because there has been so little new to report about CFS/ME or FM.
In between ME-Letters, visit our Facebook site or private Facebook Chat Room. Just search for "Hunter-Hopkins" at www.facebook.com and your options will pop up.