This Month's Contents
The Use of Immunomodulators in CFS/ME/FM
A subset of individuals with CFS/ME/FM experience what are referred to "immunological symptoms," such as recurrent flu-like feelings, general malaise, tender lymph nodes, recurrent sore throat, feverishness, chills, newer sensitivities to food, medications, and/or chemicals. Some experience frequent infections and seem to "catch everything that comes around."    From a physiological standpoint, such individuals may have low levels of Natural Killer cells, low Natural Killer Cell Activity, elevated cytokines,  deficient antibodies (low gammaglobulin or IgG subclasses), or a poorly reacting immune system. (The latter individuals convert poorly after immunizations, do not react to skin tests, have low total complement, etc.). Fortunately, many of these conditions can be improved by administering immunomodulators, or medications that positively affect the immune system.  Such immunomodulators include Transfer Factor, inosine or Isoprinosine, Nexavir, low dose naltrexone, gamma globulin, and rintatolimod (Ampligen).
Transfer Factor.  For over 40 years it has been known that the serum of immune individuals and transfer that immunity to non-immune recipients.  Thus, serum from a person immune to EBV can be injected into an immunologically naïve individual and that individual will develop immunity to EBV.  This is called passive transfer.  For decades, pooled serum from many individuals has been used to transfer immunity, but several years ago it was discovered that the serum and colostrum from many animals also contains Transfer Factor.  So now animals can be specifically infected with say EBV or HHV6, develop immunity, and that immunity can be passed on to humans through the animal's serum or colostrum.
Today Transfer Factor to specific organisms is derived from bovine colostrum and is readily available over-the-counter.  We generally recommend Transfer Factor 100 from ProHealth (www.prohelath.com) because we have studied this particular product.
Transfer Factor is also adaptogenic, which means it can boost a weakened immune system and down-regulate the immune system in certain autoimmune disorders.  Several years ago we studied the effect of Transfer Factor 100 on NK Cell Activity and found that one capsule twice daily improved NKCA 10-fold within one month.  The dose for immunity against a specific organism is higher, and may take more than 6 months to see results. Adverse effects are unlikely.
Inosine or Isoprinosine (Imunovir™).   Inosine is a purine ribonucleoside that naturally occurs in the human body. High levels act as a potent free radical scavenger, but also increase uric acid (gout) levels.  A pharmaceutical grade of inosine ( called inosine panobrex = Isoprinosine = Imunovir™) has been used as an immune modulator and antiviral agent, particularly in Europe.  Although inosine and Isoprinosine are thought to be equivalent, inosine does not clinically seem to have the same antiviral properties.
There are several dosing schedules used.  Perhaps the most common is to alternate taking 3 and 6 tablets each weekday for three months.  Note that no medication is taken on weekends.  297 tablets are required to complete a 3 month trial, after which the maintenance dose is one tablet twice daily.
Inosine is available without a prescription from health food stores and online distributors.  Pharmaceutical grade Imunovir is only licensed outside the USA for the treatment of viral infections. With a prescription this can be obtained from Anti-AgingDrugs.com, Lifespanmeds.com (UK), and Canadian pharmacies (including Rivex Pharma at www.rivexpharma.com/products_imunovir.html ).
Nexavir™ (formerly known as Kutapressin).  Nexavir is an antiviral immunomodulating peptide solution derived from porcine liver.  It is a by-product of B12 production. It has been approved for use in the US as a treatment for resistant skin problems and viral infections since about 1947.  A 1992 study by Dr. Steinbach, a Texas gastroenterologist, reported significant improvement in 111 of 130 CFS patients.  103 of those subjects improved within 6 months of beginning therapy.   Subsequent studies have shown that Nexavir is a potent inhibitor of both EB virus and HHV6. It is also thought to mediate lymphokines (especially interferon) but this role in immunomodulation remains speculative.
The protocol for use of Nexavir is 2ml injected intramuscularly daily for 25 days, then 2ml IM every other day for 25 days, then 2ml IM three times a week for several months. Because Nexavir is a pork bi-product and contains a preservative plus tyrosine, it is not recommended for those with sensitivities to these ingredients.  Nexavir is only available by prescription. If your local pharmacist is unable to obtain it, contact Nexco Pharma, PO Box 820023, Houston, TX 77282-0023, Ph: 713-896-4949, website  www.nexcopharma.com;  or John Walczyk RPh,PharmD, Johnson Compounding & Wellness Center, 577 Main St, Waltham MA 02542, Tel 781 893 3870.  The cost is about $150 per 20 ml vial (=10 injections), and we recommend using 3cc syringes with 23g one-inch needles. Insurance may cover the cost of Nexavir.
Low Dose Naltrexone (LDN).    Naltrexone binds to opioid receptors in the central nervous system thereby blocking the effects of narcotics.  In small doses of 1.5 to 5mg, it has been known to have both analgesic and immunomodulatory effects.
Since the 1980's researchers have noted that LDN has beneficial effects on immune-related disorders such as HIV, rheumatoid arthritis, Behcet's syndrome, Wegener's granulomatosis, bullous pemphigoid, psoriasis, and Crohn's disease.  These are mostly mediated by Th17 immunity, so LDN seems to suppress this inflammatory immune state.  LDN also seems to stimulate glial cells in the brain to suppress pain;  or it may block receptors for Opioid Growth Factor (OGF). The body then produces more OGF and endorphins to compensate for the temporary lull.
In 2009 Drs. Mackey and Younger at Stanford administered 5mg of LDN to 10 women with fibropain, and pain was reduced for everyone in the cohort by at least 30%.  [I'm pleased to report that Dr. Lapp was the medical director who approved funds for this study from the American Fibromyalgia Syndrome Association.]  Mackey and Jarred subsequently completed a larger trial of 40 women with FM, and again 60% of the cohort had an exceptional response.  The only side effects were minor temporary queasiness or insomnia in a handful of subjects.
LDN is only available by prescription from compounding pharmacies.  We generally recommend starting at 1.5mg daily then increasing to 4.5 or 5mg over a period of 1-2 weeks.  Because LDN is a narcotic antagonist, you must stop all narcotics for 1-2 weeks before starting LDN, and should not use narcotic medications while taking the medication.  LDN is an ideal medication for individuals with both fibropain and immune symptoms.
Gammaglobulin.   Many PWCs have either hereditary or acquired immune deficiency from a lack of immunoglobulins in the blood stream. These proteins are able to recognize foreign ("non-self") bodily invaders such as viruses and bacteria,  then tell certain cells in the body to fight off these invaders.  Similar to transfer factor, immunoglobulins can be pooled from the serum of hundreds of individuals then administered to an individual who is lacking this humoral immunity.  Immunoglobulin (IgG) can protect against viral hepatitis, other viral infections, even rabies in some cases, but the effect only lasts for 3-4 weeks.  Then more IgG must be administered.  This treatment is administered subcutaneously or intravenously every 1-4 weeks, and is particularly helpful for PWCs who suffer frequent viral or upper respiratory infections.  However, it is very expensive and insurers will only approve it if strict criteria are met.
Rintatolimid (or Ampligen™).   Rintatolimid is a mismatched double stranded RNA polymer that has numerous beneficial effects for PWCs:  it stimulates interferon (IFN) and Toll 3 (serotonin) Receptors, inhibits RNaseL (an enzyme that is overproduced in CFS/ME), suppresses HHV6 and HIV, and is thought to be active against lung, kidney, and other cancers.  This investigational drug is administered as a 400 mg dose, intravenously, twice weekly for 6 months or more. Because it is has not yet been approved by the FDA, rintatolimod is currently available as an investigational drug at only 5 sites in the USA and on a cost recovery basis. That is, the patient has to pay for the treatment. Drs. Peterson and Lapp have been administering this drug successfully to PWCs since the late 1980's.
A 1992 double blind placebo controlled study administering  rintatolimod to 46 PWCs and 46 controls demonstrated significant improvement in physical activity, the reduced need for symptomatic medications,  and overall quality of life in over 50% of participants.  Side effects have been mostly limited to mild flu-like symptoms for a few hours after each infusion.  For more details on Ampligen, visit our website at drlapp.com   >  Research tab  >  Ampligen tab.
Before considering any immunomodulators, be sure to discuss them with your doctor.  Costs vary considerably:   inosine (US$20/month) > Low Dose Naltrexone (US$40/month) > Transfer Factor (US$50 /month) > Imunovir (US$150-$300 /month) > Nexavir (US$300-$350 / month) > Ampligen (about US$2000 / month) > gammaglobulin ( >US$10,000/month).
Creatine Supplementation May Improve Muscle Function
Many persons with CFS/ME and FM complain that they can't seem to develop muscle tone and bulk or improve aerobic conditioning even with regular low level exercise.  An over-the-counter supplement may help with at least some of these issues.
C.R.R.Alves and associates at the University of Sao Paulo, Brazil , conducted a 16-week, randomized, double-blind, placebo-controlled, parallel-group trial whereby fibromyalgia patients were randomly assigned to receive either creatine monohydrate or placebo. The patients were evaluated at baseline and after 16 weeks. Muscle function, aerobic conditioning, cognitive function, quality of sleep, quality of life, kidney function, and adverse events were assessed. Muscle phosphorylcreatine content was measured by (31) P magnetic resonance spectroscopy.
After the intervention, the creatine group presented higher muscle phosphorylcreatine content when compared with the placebo group (+80.3% versus -2.7%) and the creatine group presented greater muscle strength than the placebo group in the leg press and chest press exercises.  However, no general changes were observed in aerobic conditioning, pain, cognitive function, quality of sleep, and quality of life. Food intake remained unaltered and no side effects were reported.
The authors concluded that creatine supplementation (available at any health food store and many pharmacies) increased intramuscular phosphorylcreatine content and improved lower- and upper-body muscle function.  Thus creatine supplementation may be a safe and useful dietary intervention to improve muscle function in fibromyalgia patients, and presumably persons with CFS/ME as well.
Arthritis Care Res (Hoboken). 2013 Sep;65(9):1449-59, PMID  23554283
Getting Some Help At Home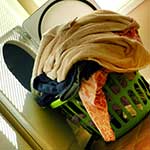 By definition,  PWCs have limited energy and cannot always manage routine daily activities like cooking, cleaning, and even paperwork without assistance.  But where can you get help without expending a lot of effort?  Two sources are Mom's Meals and Care.com.
At www.momsmeals.com over 70 different nutritious and pre-prepared meals can be purchased for under $7 apiece!  That's less than you might pay if you make it yourself or go to a fast food restaurant. When Barb Anderson's mother became unable to fix her own meals, Barb prepared meals for her, packaged them, and had the food delivered by mail.  Soon Barb came across others with similar needs, so she hired two professional chefs to do the cooking and helpers to package and mail.  Mom's Meals can provide breakfast, lunch, or dinner, and they even accommodate special diets such as heart-healthy, diabetic-friendly, gluten-free, and vegetarian diets. Have a look at their menus.  You'll be amazed!  If you don't like using the internet, call directly to 1-877-508-6667.
Care.com (www.care.com) connects caregivers with those who need a job caregiving.  You can search their website to find someone in your area who is just right for you; and fees are plainly published.  They can provide companion care (errands, transportation, etc.), personal care (including exercise, mobility, and medication reminders), housekeepers, in-home child care, and even pet care.
Checking and Reducing the Cost of Medications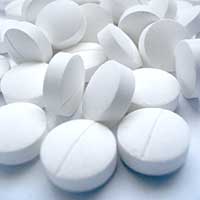 The cost of medication seems to be rising every day, so we are all seeking low-priced alternatives. Here are a couple of ideas:
It pays to shop around for the best price if you are paying cash for your medications.  Wal-Mart, Target, and many larger grocery store pharmacies offer generics at about $4 for a month's supply, or $10 for a 3-month supply.  Sam's Club and Costco usually offer very low prices also, and you do not need to be a member to use the pharmacy services.
Many pharmaceutical houses will provide generous allowances just by going to their website and downloading a coupon.  While many of these apply only to those individuals with private insurance, some (like Valeant, the makers of Wellbutrin XL) provide very significant discounts for those on Medicare and other government insurance programs as well!
If you haven't used www.goodrx.com, please give it a try.  Simply enter the name of the medication you wish to purchase and your zip code.  GoodRx will then provide the lowest prices for that medication at drugstores in your neighborhood!  They also offer coupons to reduce the cost.
Housekeeping Issues
Encrypted emails:  as of September 2013, new and stricter HIPAA no longer allowed us to answer emails directly if they include any hint about your case (that is, "Protected Health Information"). Therefore, most emails that you receive from Hunter-Hopkins will have to be retrieved from an encrypted email site.  You may send an email to us directly, or send it via our encrypted site at https://securecontact.me/cwlapp@drlapp.net.  To use the encypted site simply provide your email address.  DataMotion will send you a link where you can complete your registration.  Just enter a password and activate your SecureContact account. Then send us a secure message!
Bring medications bottles with you:  We have noticed some discrepancies in medication doses that we have on file compared to what patients are actually taking.  The best way to avoid such inconsistencies is to bring your medication bottles with you to each office appointment so that we can check the accuracy.
Confirm appointments:  be sure to confirm your appointment when you receive that reminder call from Pam or one of the other HHC staff members.  Because appointment time is so valued, it is our policy to cancel an appointment and reschedule someone else if we have not heard back from you within 24 hours of your appointment.