This Month's Contents
Ask The Doctor
PWCs often want to ask general questions about CFS/ME or FM.  Now there is an easy way to do that – the "Ask The Doctor" blog on the drlapp.com website.  Just navigate to drlapp.com, then click on the "Ask The Doctor" button, and then POST your question!   It's that easy.  Dr.Lapp or Dr. Black will then reply to your query. You can also sign up for an RSS feed on that page so that you will receive all new posting promptly.

Open Medicine Institute
In 2011 several CFS/ME/FM specialists joined together to form a cooperative institute.  The goal of the institute is to improve communication among members by meeting regularly and using shared Electronic Medical Records; and to perform CFS/ME/FM research as a group.  Group members include the Hunter-Hopkins Center, Dr. Dan Peterson, Dr. Lucinda Bateman, Dr. Richard Podell, and Dr. Andy Kogelnik. OMI already has a study contract with the Centers for Disease Control  (see http://drlapp.com/news/me-letter-december-2011 ), and the group is meeting this June in New York City to formulate plans for 2012.
A recent YouTube program that touched on some of our activities can be found at:   http://www.youtube.com/watch?v=pbvmLXiZJ9w
In this episode of ME/CFS Alert, Llewellyn King interviews Dr. Kogelnik. They briefly discuss the Institute, Ampligen, and an international, multi-center Rituximab trial being proposed by the
Institute and its collaborators.

Six Month Disability Follow-Ups Recommended
Attorney Lynn Bishop recently pointed out that one of the major mistakes made by persons on disability is to not maintain regular visits with their supporting physician.   Social Security and most private disability policies require continuing medical follow-up with your advocating physician, which is generally interpreted as meaning at least every 6 months.  Disabled persons who do not follow-up regularly risk immediate cancellation of their disability.   Recognizing that such medical appointments are difficult for PWCs, Hunter-Hopkins has always encouraged one annual visit and one or two telecom visits.  The annual visit includes a comprehensive  physical exam, interval history, and necessary lab studies; telecom visits are usually accomplished by telephone, but can also be accomplished on Skype.
$50 Referral Bonus!
As of this newsletter Hunter-Hopkins is instituting a new Referral Bonus Program.  Patients can earn $50 in credit toward their next HHC consultation when someone they refer has an initial office visit in Charlotte!  Many of our referrals come from you – the friends and clients of HHC – and this is one way that we can say "thanks for your confidence in us!"    So if you refer someone to us for an Initial Office Visit, be sure they "drop your name" at the registration desk!
CFS/ME/FM Treatment Website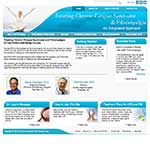 Many PWCs are unable to find a specialist, nevertheless travel for management of CFS/ME/FM.  For that reason Dr. Lapp teamed with Dr. Bruce Campbell to produce a self-help website.  One year ago Lapp and Campbell launched www.TreatCFSFM.org to provide step-by-step evaluation and management of CFS/ME and FM.   The site has been immensely popular, logging about 8000 visits in the first full month of operation.   Dr. Campbell emailed me to report that about 70,000 individuals have visited the site in 2011
A New Imaging Technique Reveals Brain Wiring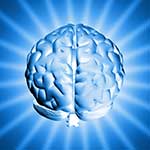 The NIH has just described a new brain imaging technique called DSI that displays the brain as a 3D structure composed of criss-crossing network connections.  Connections in the brain turn out to be more like flat multi-wire computer ribbon cables than random individual connections.
"Getting a high resolution wiring diagram of our brains is a landmark in human neuroanatomy," said NIMH Director Thomas R. Insel, M.D. "This new technology may reveal individual differences in brain connections that could aid diagnosis and treatment of brain disorders."
The new technique was described in the March 30 issue of Science, and a summary is available at www.nih.gov/news/health/mar2012/nimh-29.htm.  Be sure to watch the brief video – it's amazing!

Having Trouble Getting or Affording Health Insurance?
The 2010 Patient Affordable Care Act established a new program to provide health insurance for those who have been denied insurance due to a condition such as CFS/ME or FM. The Pre-Existing Condition Insurance Plan (PCIP) makes health insurance available to people who have had a problem getting insurance due to a pre-existing condition. This is administered on a state-by-state basis, or by the Department of Health and Human Services.  For details on eligibility the application process, go to www.pcid.gov pcip.gov.
The DHHS has lowered insurance premiums in over 18 states through the PCIP, and many state-run high risk pools have been modified as well.  More information on your state's high risk insurance plans can be found at  www.healthinsurance.org/risk_pools.
Special thanks to those who contributed to this newsletter:  Dr. Alison Bested, Nancy Henson, and Attorney Lynn Bishop.